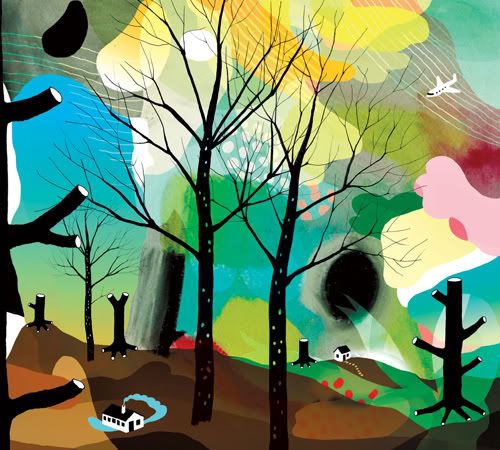 The young and very talented artist
Nan Na Hvass
has worked in many fields and blessed many things with her drawings. I'm a total fan of her work for all the life and colours in that bizarre supernatural universe.
She has made the video for the Danish band
Efterklang
's
Mirador
and also the cover for their album 'Under Giant Trees' - as you see above - these are really good examples of her style. But Hvass has done munch more than that.
She's also the artist behind a great mural at VEGA nightclub here in Copenhagen and has created illustrations for t-shirts and this bag that I especially like.
I guess, what I find inspiring about her work is the many dimensions she can add to a single picture – it sort of pulls you in, in a weird almost surrealist way. Her style reminds me of a mixture of Danish artist
HUSK MIT NAVN
and the ever so cool
Kitsune Noir
– and then maybe just a little bit a Dali -without all the odd sex fantasy stuff though.